Trip Log – VA to CA July 2016
Road Trip! July 8, 2016
A Van. A Car. 5 Siblings. And a Dog.
We are in the midst of our Road Trip. I haven't had much time to make updates so I am going to add some of the pictures and will update with details and more pictures later! We all arrived different days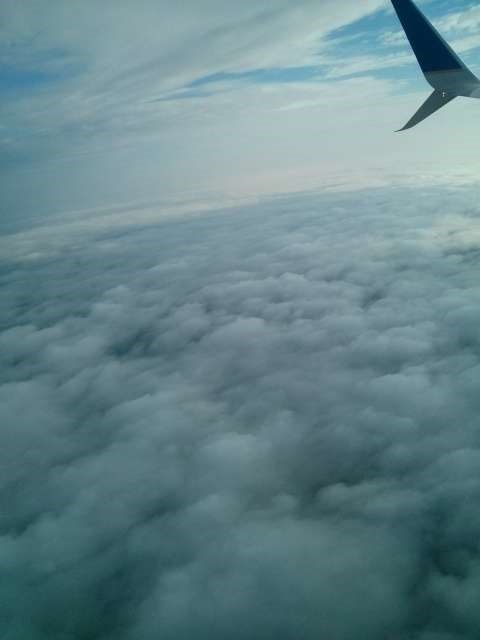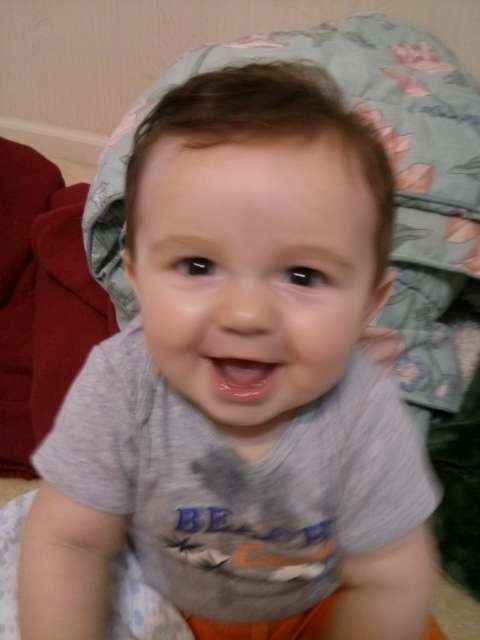 July 13. Here's Sterling! He likes crazy faces and big smiles. He does not like people to climb into the van through the trunk and sit in the back seat.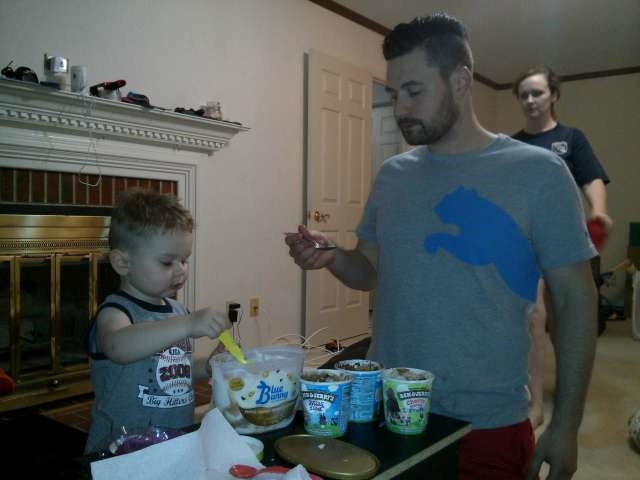 The table is packed so dinner is on a cabinet. Silverware is packed so we had finger food. Turkey burgers and noodles. Wesley loves noodles. Maybe it's the taste and consistency or maybe it's cause he can put them in his mouth and swing the noodles around like an elephant trunk. When Wesley finished his noodles he ate 'Mommy's noodles' while she was taking care of Sterling.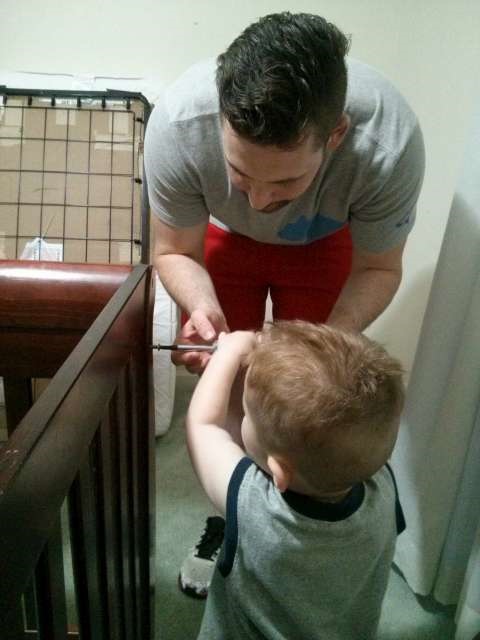 Today we have been packing up remaining furniture and items.Wesley has been helping do everything he can. Here he is unscrewing the screws from his crib.

July 14. I wish we had a video of this ordeal. This huge truck made it into the driveway from a very narrow road thanks to an extremely skilled driver. However, he journeyed deep in the woods to accomplish his mission. We were very shocked he didn't knock down any trees. He definitely did scrape some branches and leaves. We asked him if he could get the trailer into the driveway and if he was a skilled diver. He said he would show us and he answered both our questions by his amazing feat. seriously though, this was entertaining to watch.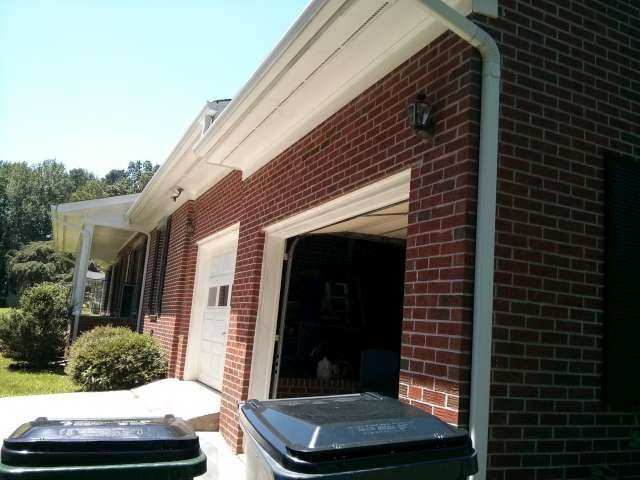 Here is the garage. The funnel for all the posessions from the house into the truck. We pay based on the space we use, then we set up boards for a barrier and only pay for the space used. Since we are cheapos and moving is expensive and since we don't want our stuff to come tumbling down, we pack every space tightly. the first two rows are jamming in every nook and cranny. The last row is mostly jammed, but has a bunch of awkward stuff so we do our best with ratchets, rope, and tape to secure the load. By the way, it is really hot and humid in South Hill. In a large metal box, it is even hotter. Not sure if I have sweat this much in a while. The box smells like sweat and desparation. In the even ing, the bugs came to visit. Caleb sprayed tons of bug spray opened some bat repellant. Wow, this smells strong, but it is better than getting swarmed by bugs. When this trailer is opened… wear your nose plugs!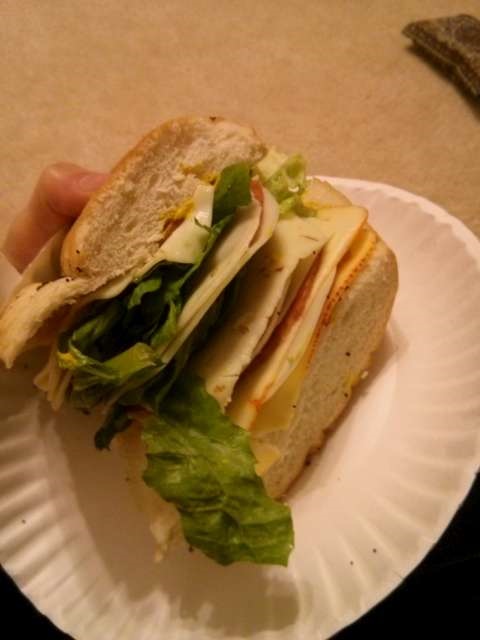 We bought some (lots) of meat and cheese for sandwiches.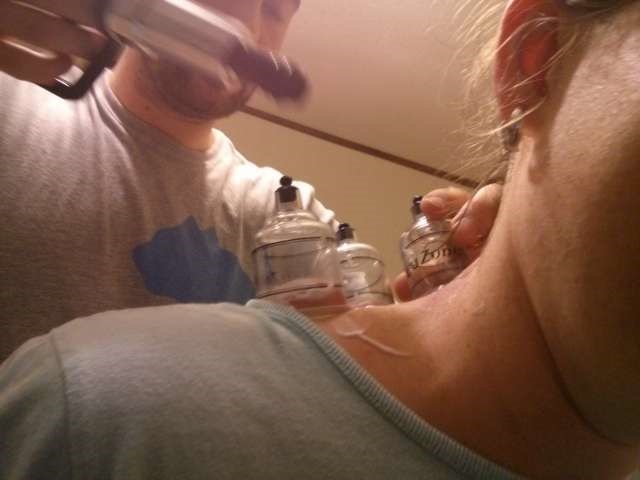 Erika told Caleb she had pain in her neck when she yawned. He has a solution for that! It looks gross and leaves terrible bruises but the theory sounds logical.

Lorelei prefers sleeping on people's beds instead of her soft and cushy dog bed.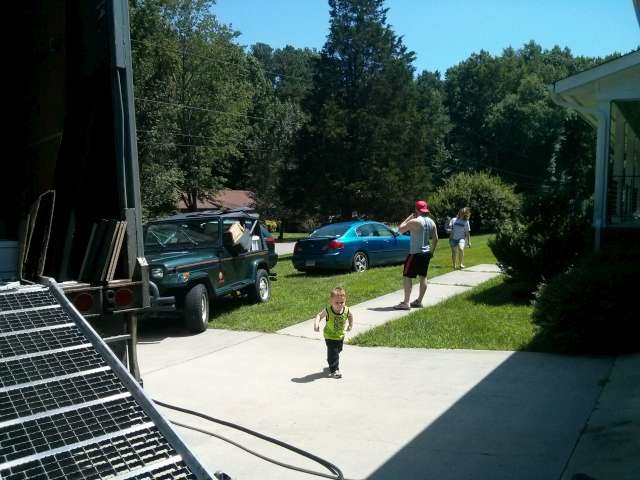 7-15. We are in Southern Virginia so we can park the cars on the lawn. The first crew heads back to CA by plane. Jessica, Wesley, Sterling, and Jamie are driven to the airport by Jonah. Jonah plans to pick Bryan up off his flight and head back to South Hill. Instead a thunderstorm hits Raleigh and BRyan's plane has to circle for a while, then sit on the tarmac, then the luggage is held on the plane due to the thunderstorm.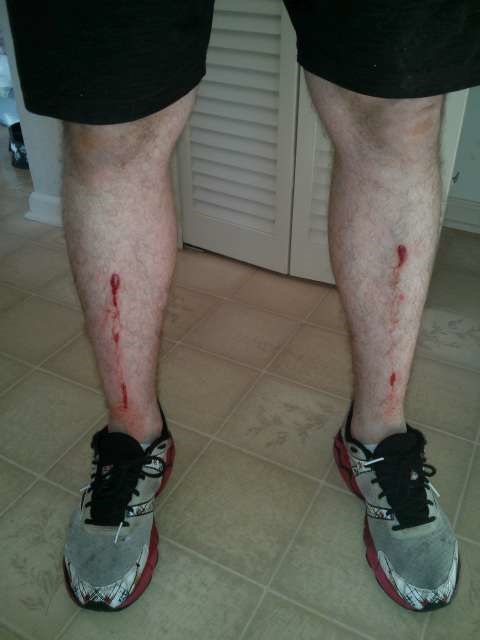 War wounds. The shelves fell on Caleb and scraped off his skin. This developed into a nasty situation. Good thing Caleb has needles and knows the disenfectants to buy to clean out puss and infection.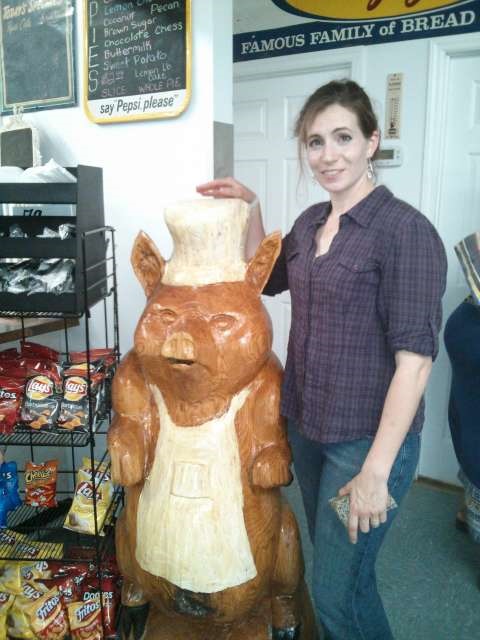 Kristin and the Rising Smoke Pig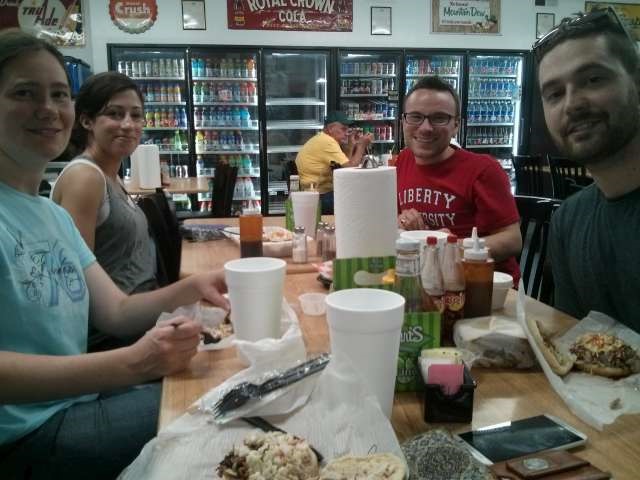 Josh and Christy came down to South Hill to help pack and clean. It was great to see them and have their help! We went to dinner at Rising Smoke, a really amazing bbq place at a gas station. This place had amazing food.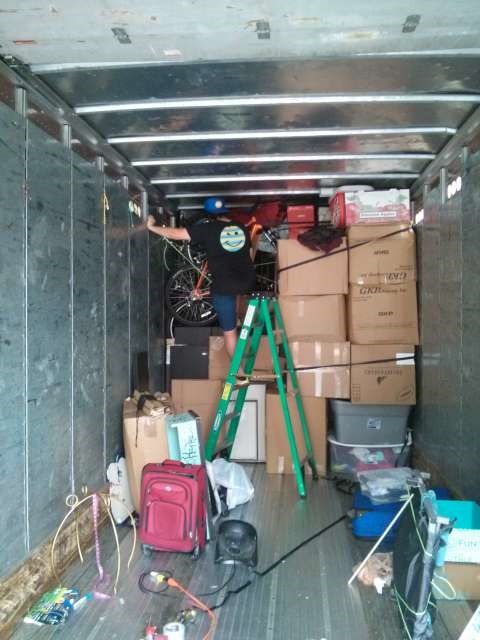 7-16 Today we finish the packing and cleaning and plan to head out sometime. Plan is to leave South Hill and make it to Knoxville, TN – about 410 miles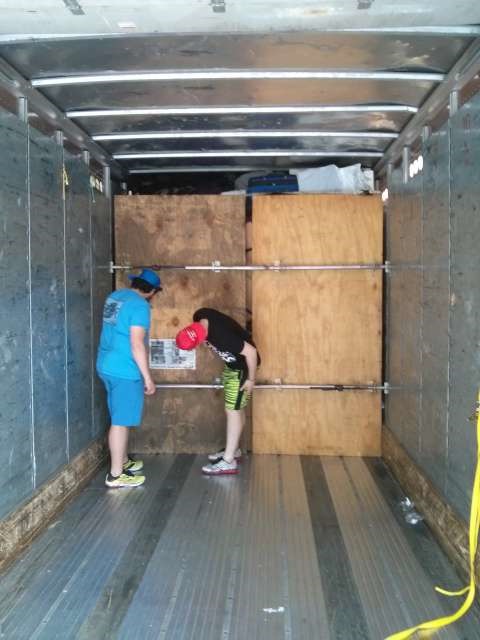 Finally have the load ready to secure. Only 9 feet used!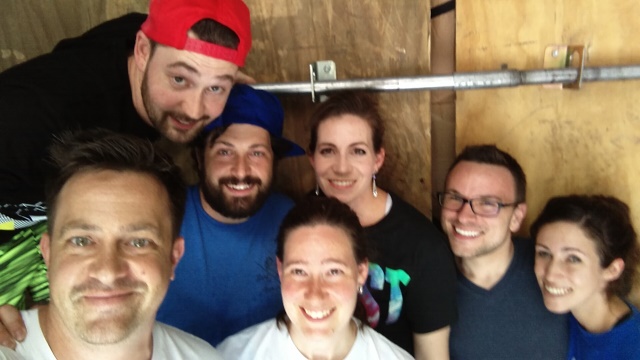 Group shot! Just missing the crew that already flew out to CA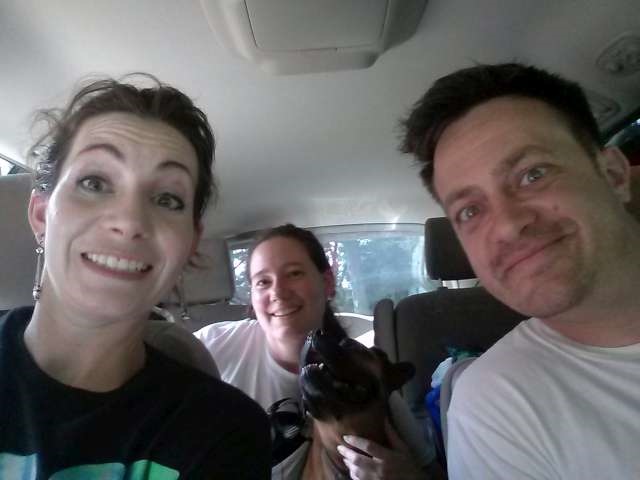 Minivan Crew. Everyone has a goodwill hat. Everyone has a Burkes clearance shirt. I dont think we have a pic of all of us in our shirts and hats.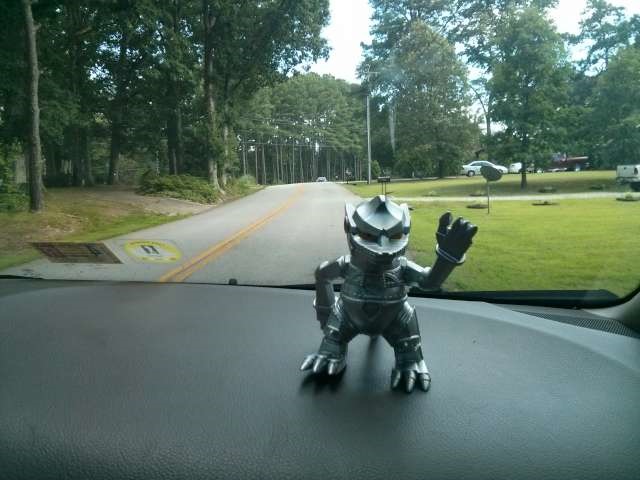 Metal Dino says 'Bye South Hill'

Nice hat, right? This is the Negative Nancy hat. If you make a comment that is remotely negative you get the hat. Kristin had the hat first cause she said – I should keep this hat in the minivan because Bryan and Erika are riding in there. Oops! But her negative reign was short-lived. Soon it was passed on to Bryan then on to Erika. We were loose in our accusatory measures.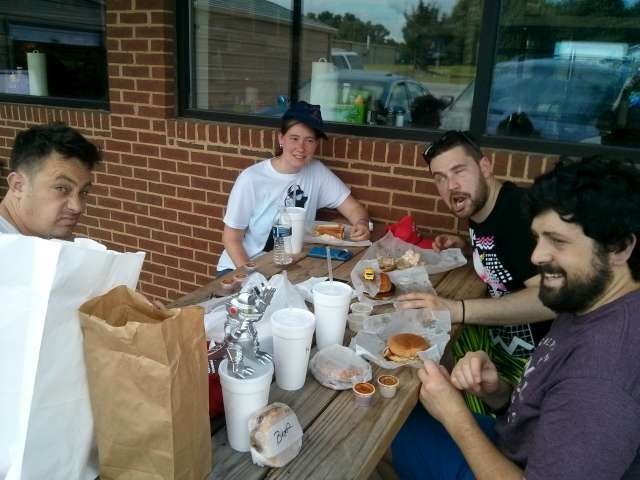 We stopped at Rising Smoke again because Bryan and Jonah did not get to eat it the last night. Also, we saw a sign for smoked bologna and really wanted to try it. So glad we stopped. This food is amazing again and the bologna is delicious.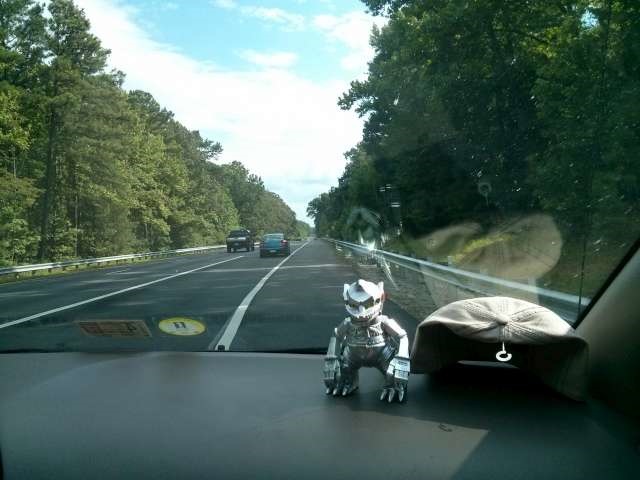 We bought South Hill hats from Food Lion. One for the Minivan and one for the Blue Beast.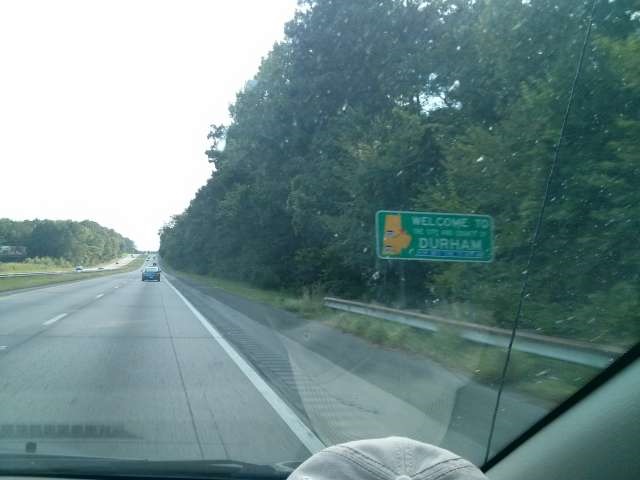 We have passed into North Carolina. It's raining. Thankfully we have not been hit by the Raleigh storm from last night.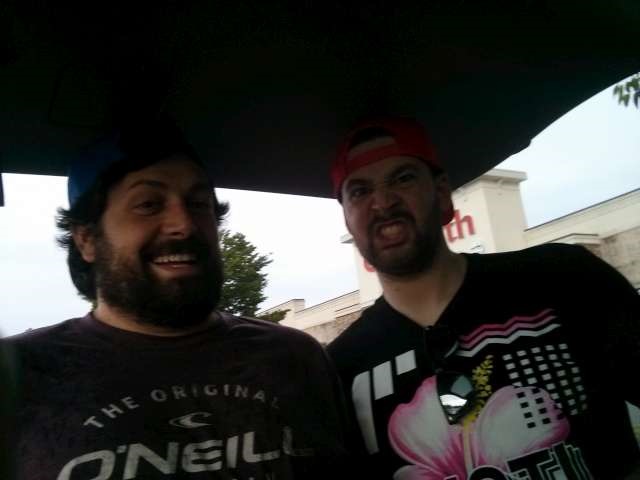 Jonah and Caleb, the Blue Beast crew, rocking their shirts and hats. We stopped at Petco to buy some dogfood for the trip. It started to rain again so we sheltered under the van trunk door.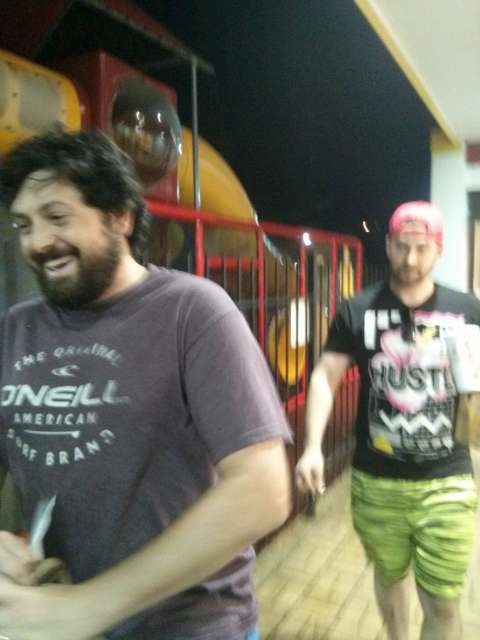 Headed to sheetz for a bio-break and some snacks and to check the fluid levels for the Blue Beast.

Bryan in his trip shirt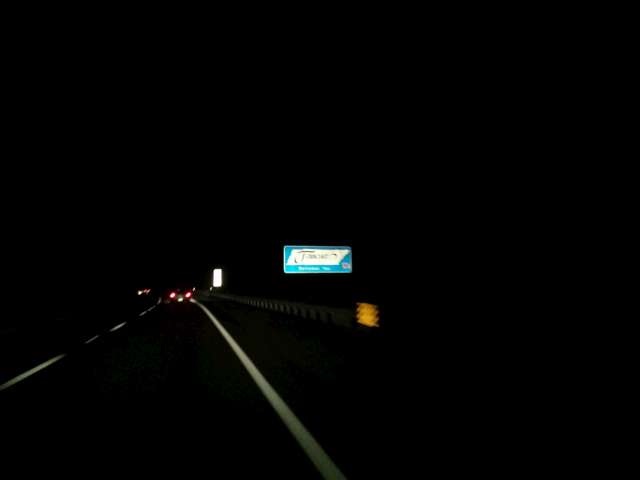 Made it to Tennessee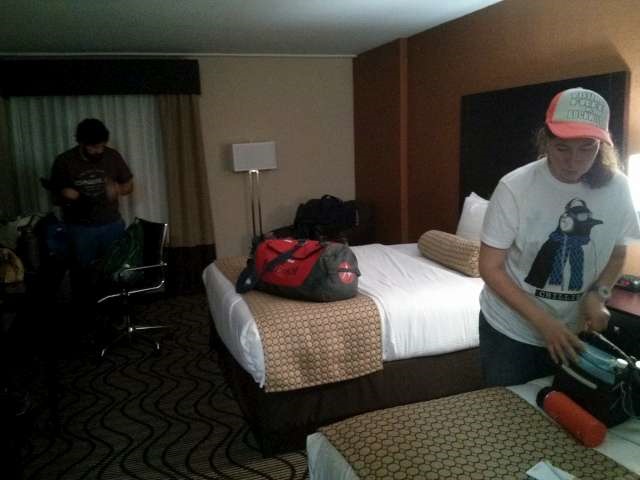 Stopping the first night in the Knoxville TN La Quinta.

July 17. Getting ready for the second day on the road. Planning for Knoxville, TN to Joplin, MO – about 675 miles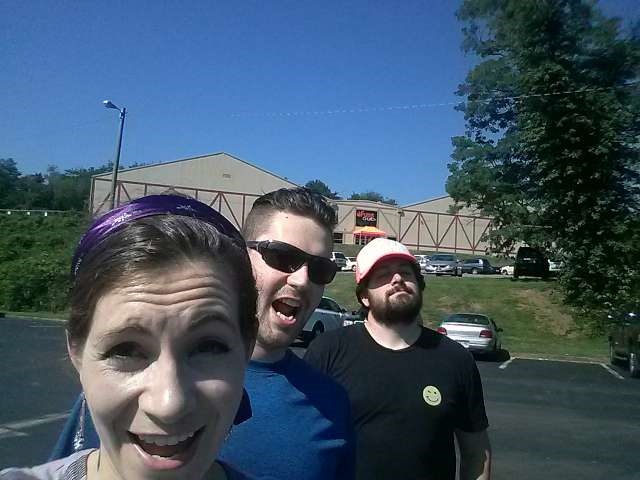 It's Sunday so we took a picture in front of a church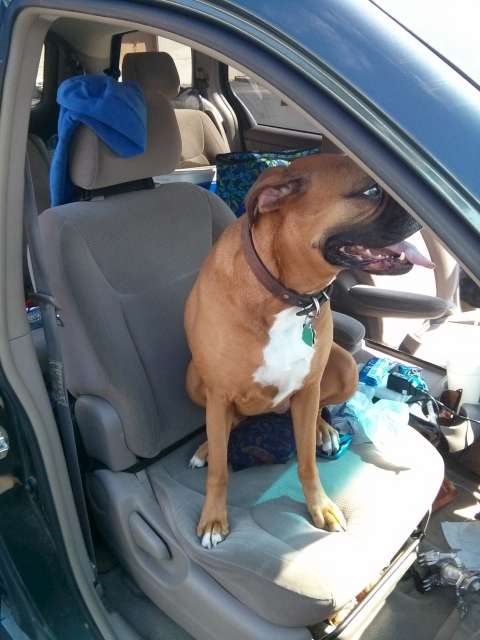 Lorelei likes to sit in the seats. Her favorite person is Erika and she gets separation anxiety when Erika leaves.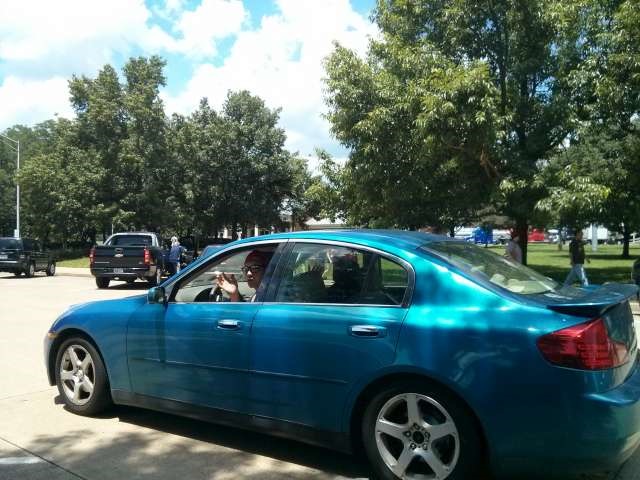 Leaving a rest area in Kentucky.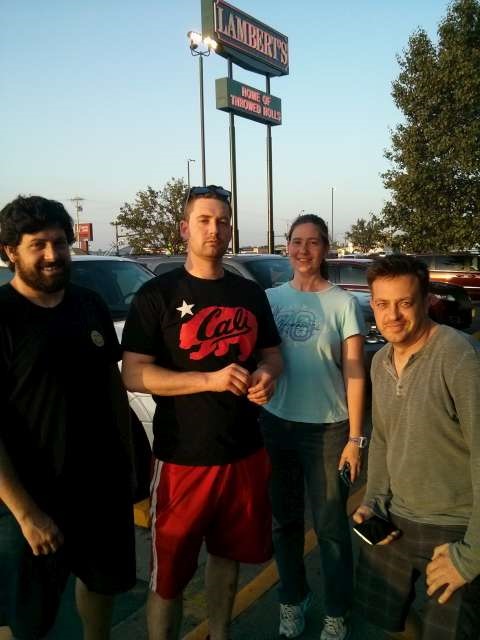 We made it to Lamberts. The food was delicious. The waiter, Justin was great. Apparently we waited for an hour for our food and got 25% off our bill. We were shocked when he told us we waited over an hour. Probably cause an hour seems so short compared to the amount of time we have been sitting lately.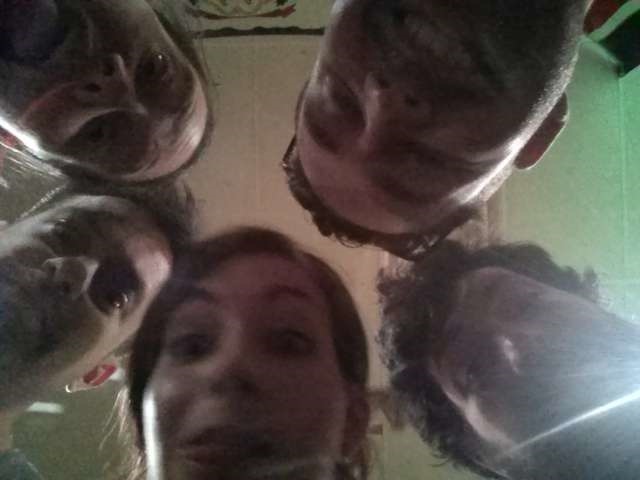 Or maybe this is why we didn't notice the hour wait. Just goofing around, cathching rolls, and eating fried okra. Eventually we made it to the La Quints in Joplin.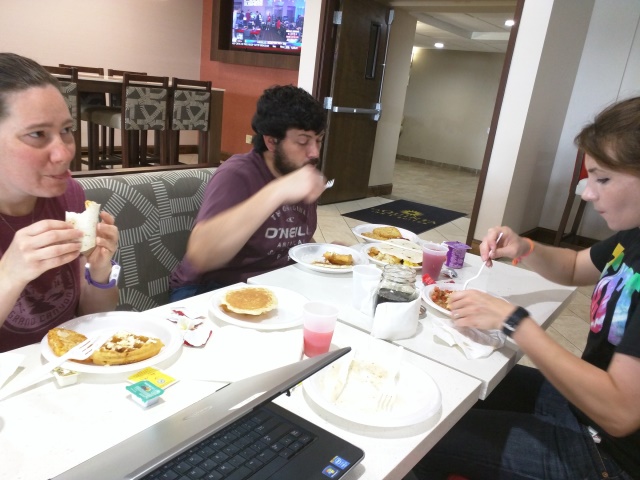 Today's plan:Joplin, MO to Albequerque NM – about 760 miles. The breakfast at the Joplin La Quinta was definitely the best breakfast buffet on this trip yet. So many choices, so much fresh food, delicious! Even some fresh salsa.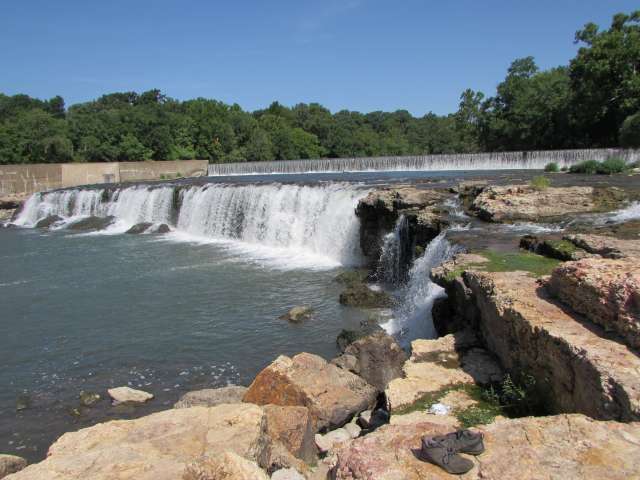 After the breakfast and packing up the cars, we headed to Grand Falls. 12 feet high and 163 feet wide.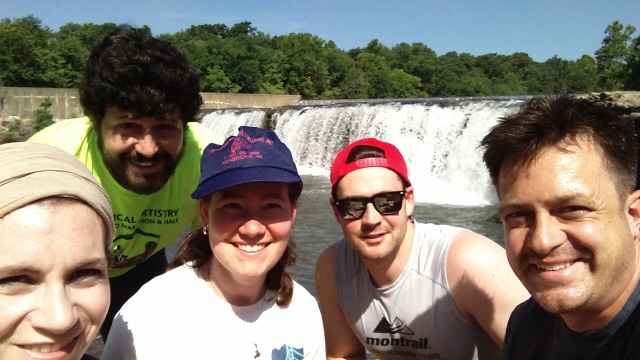 Group shot at Grand Falls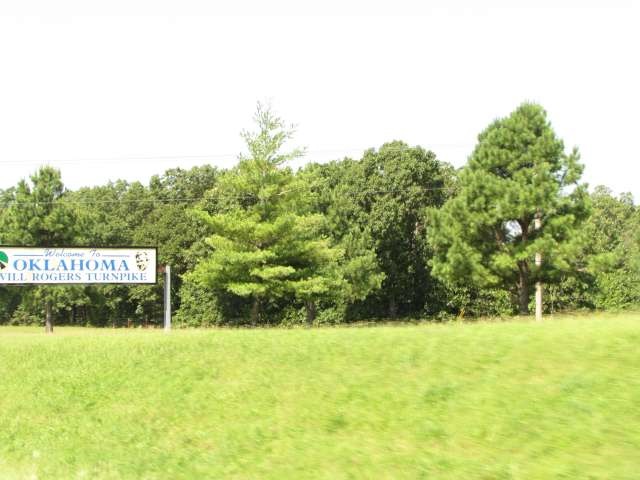 Made it to Oklahoma!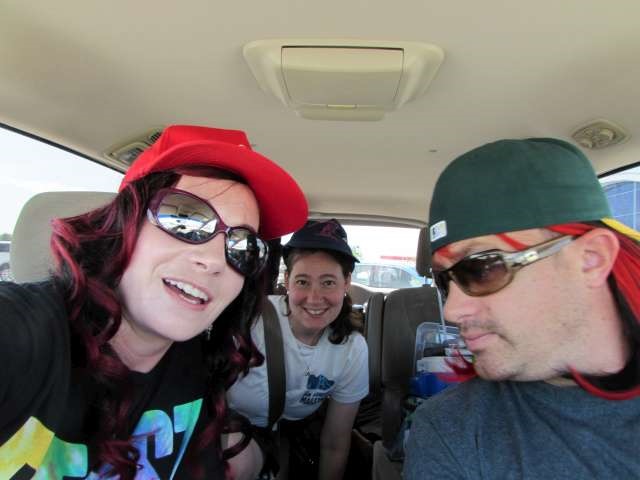 Just for fun, we broke out some wigs and passed them around. A black and pink curly one and a blank and red straight one. Oh yeah. We just look so cool.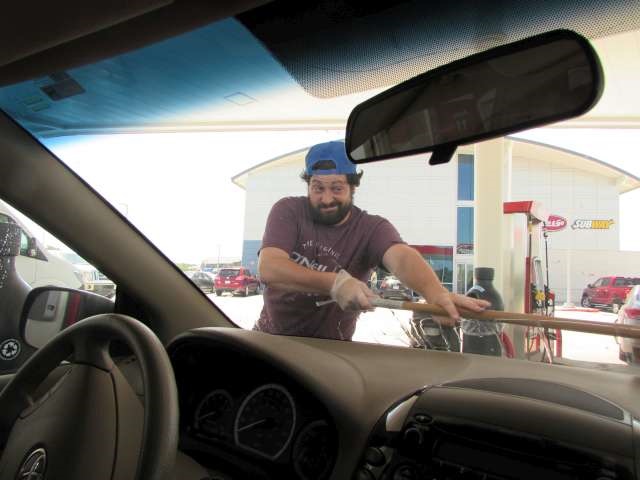 Jonah's job is to wash bug guts off the windows. WHy is he wearing the glove? Because it was free, of course.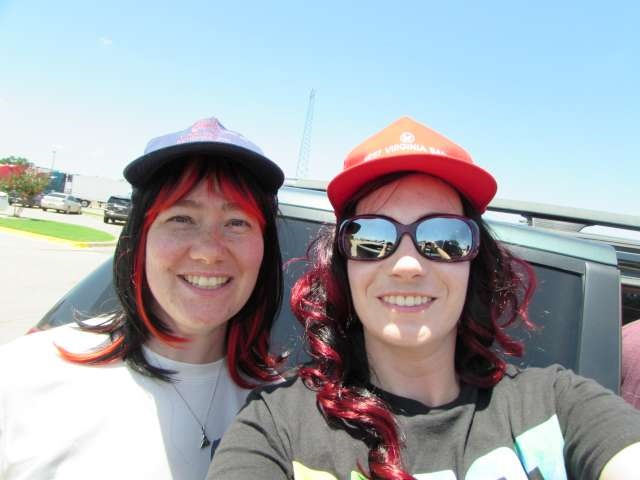 Our turn for the wigs!

Erika and Kristin watched too much Mighty Machines and are now hooked on big construction trucks. Or maybe this picture is for Wesley.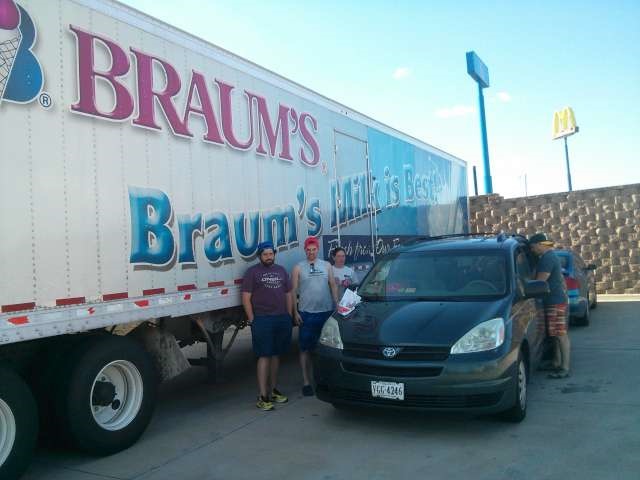 Minivan took a stop at K-Mart while Blue Beast searched for a mechanic to decipher a code. Then on the Braums a diner and ice cream shop. Who can say no to ice cream? Someone had the bright idea to park in the shadow of the huge refrigerated ice cfream truck.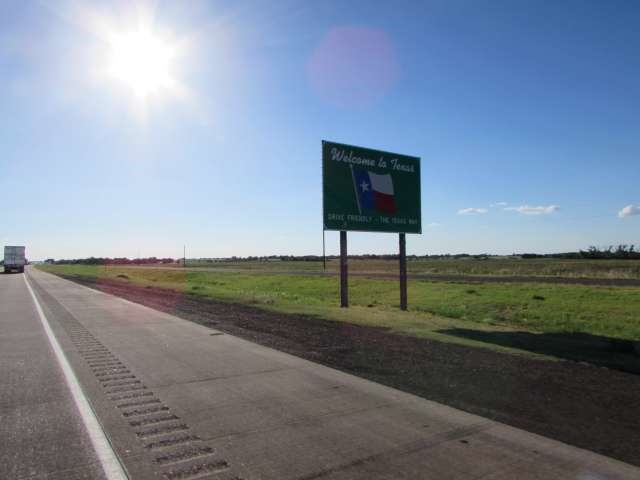 Texas!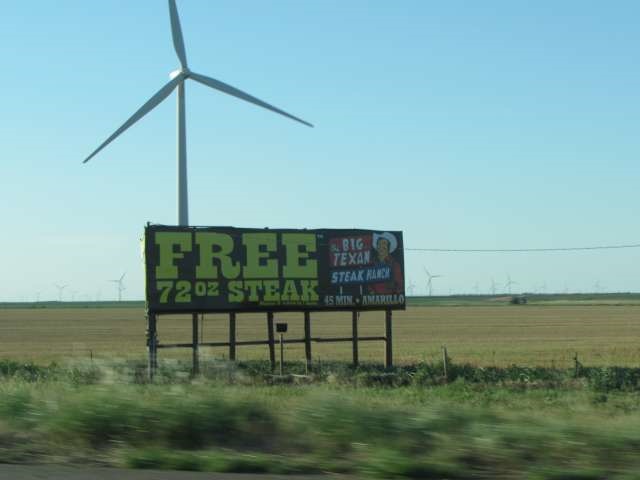 We have been leapfrogging the Van Dykes. First they were ahead, then we jumped ahead. Did you guys attempt the 72 oz steak??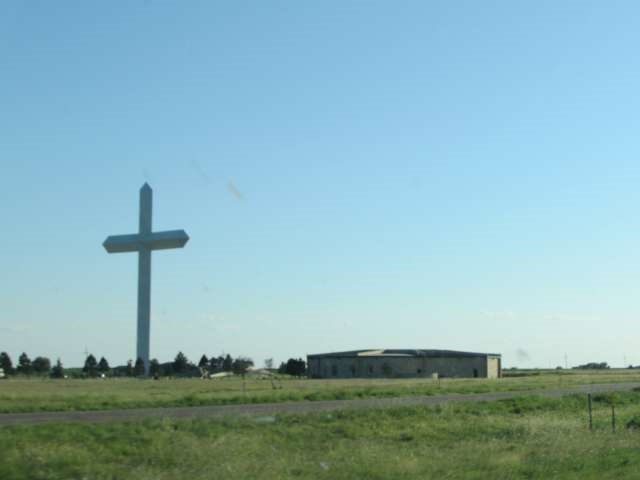 Here is a huuuuuge cross.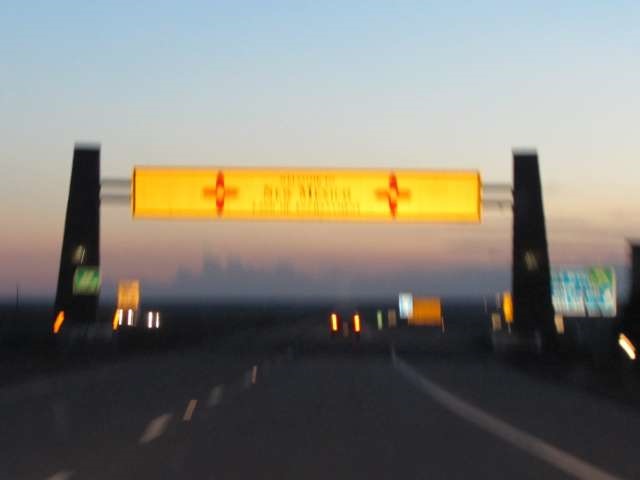 New Mexico. It's dark so the camera didn't focus.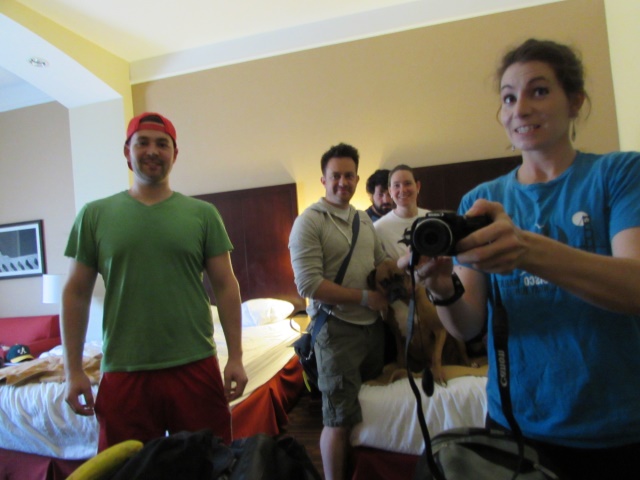 Goal for today: Albequerque NM to Kingman, AZ with a side trip to the Grand Canyon – about 473 miles plus 82 miles to the Grand Canyon and 54 to Williams, about 610.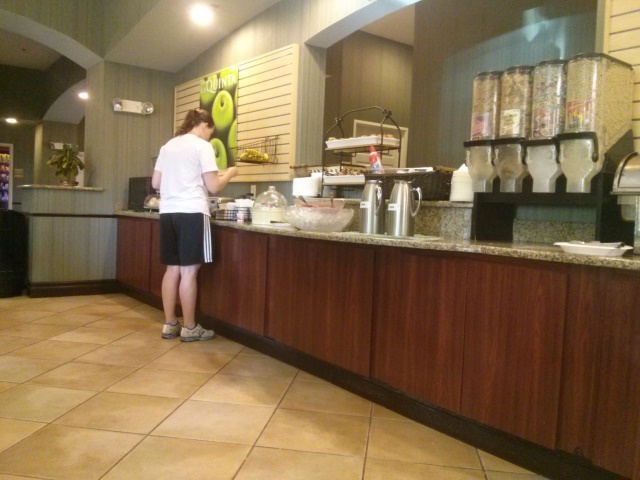 Still a great breakfast, but not as outstanding as Joplin breakfast!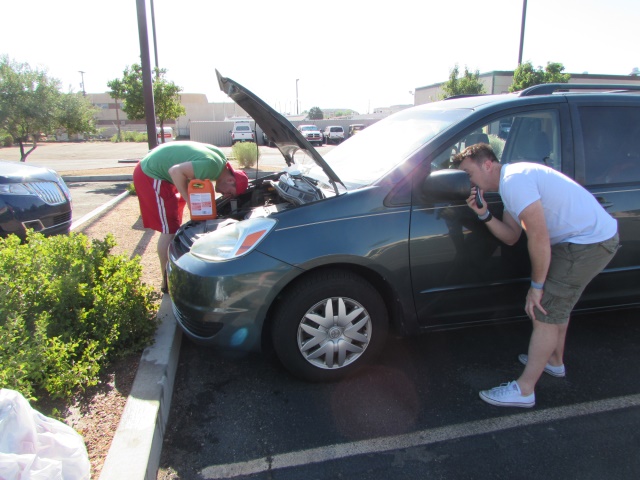 Coolant may be low. Bryan shaves using the mirror

We leave the La Quinta in Albequerque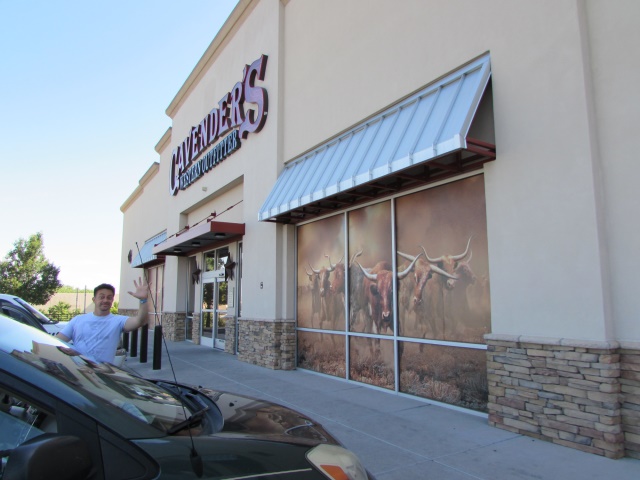 Heading to Cavender's to buy some gifts.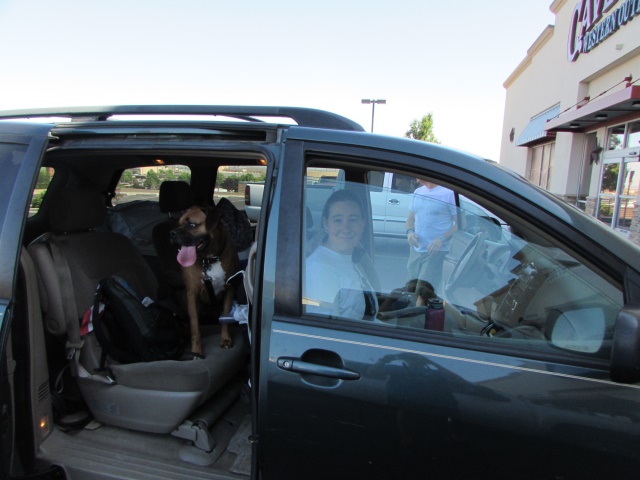 Erika and Lorelei chilling in the van.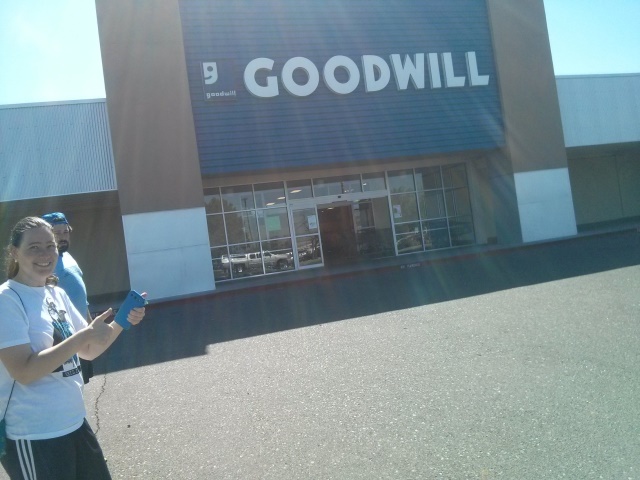 Yes, we did stop at a few goodwills to pick up a few goofy items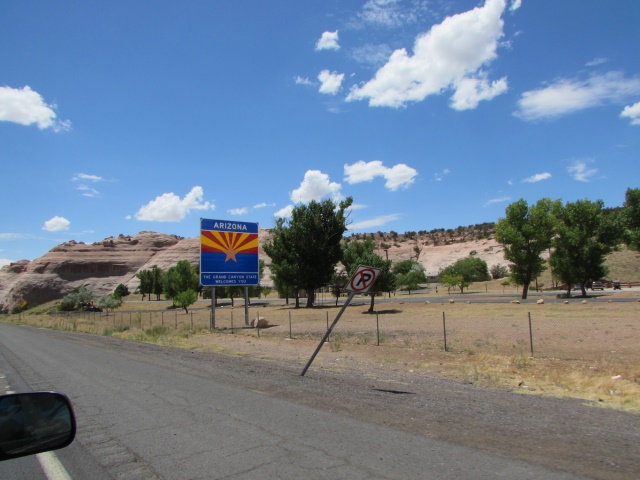 Arizona!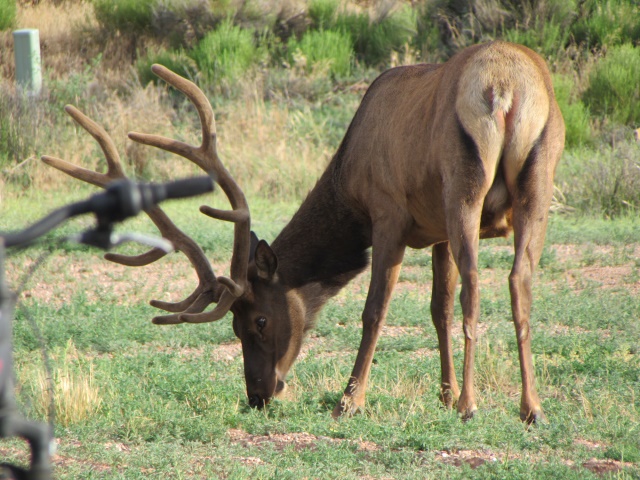 Headed up to the Grand Canyon and saw this big beast. We hoped he would not charge us all, so we kept a good distance.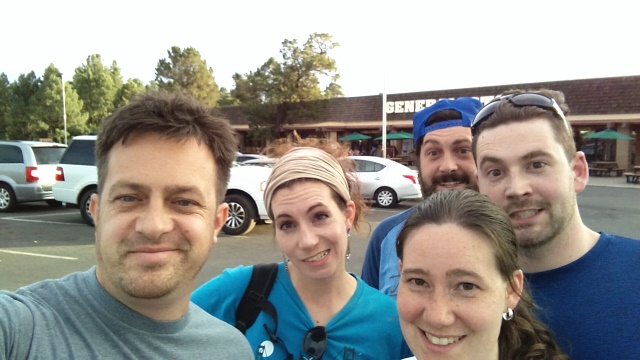 In the Grand Canyon Market parking lot. Jonah helped an elderly gentleman and received a salvation tract.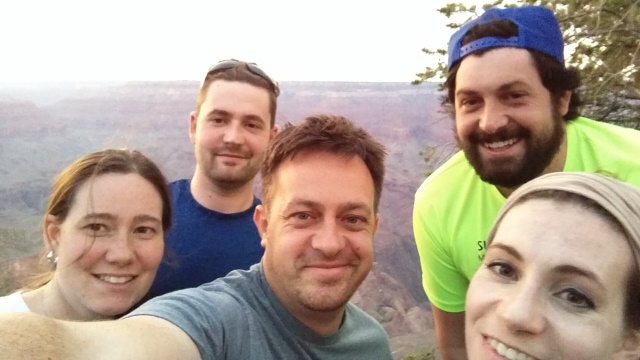 We arrive and the sunset is beginning!

Here is the Grand Canyon

We made it up to the canyon for the sunset. Lorelei hung out with Caleb and the yellow Wesley Car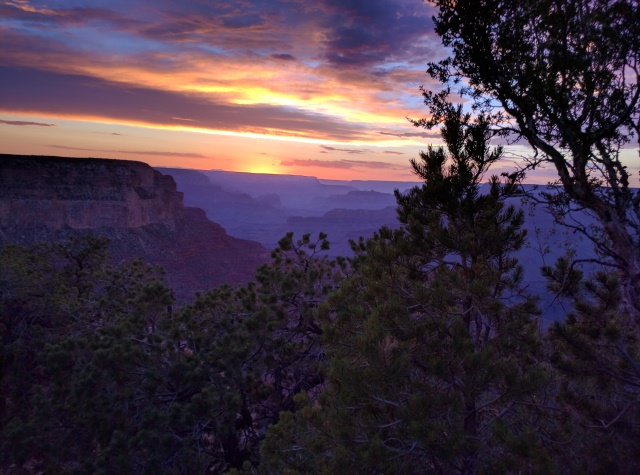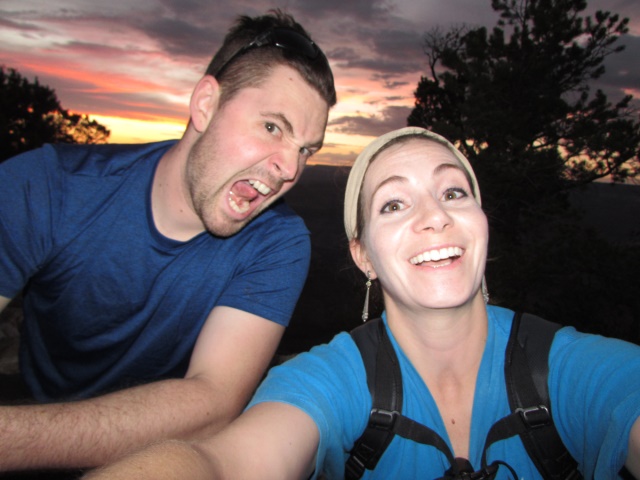 Goofing of but not jumping off the edge

All of us in the sunset on the rim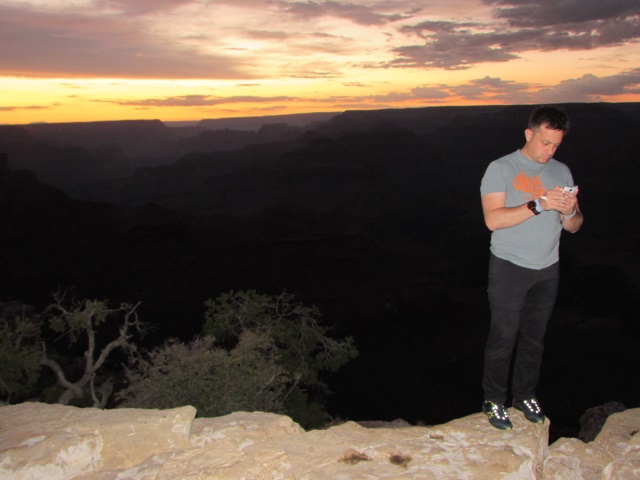 Bryan likes to precariously perch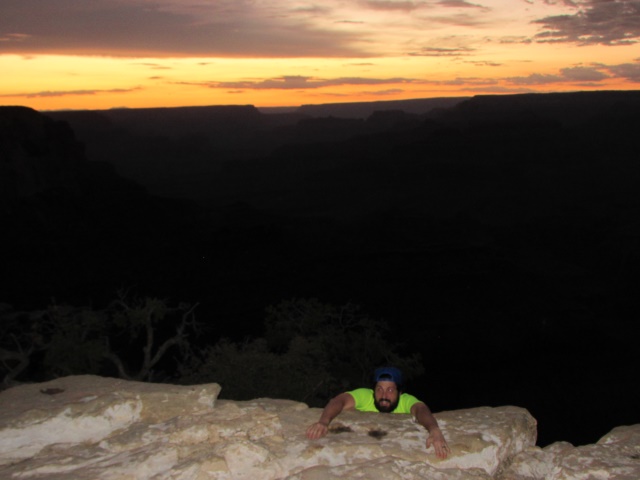 Jonah slipped and fell. No to his death. Thankfully he has great finger grip and caught himself.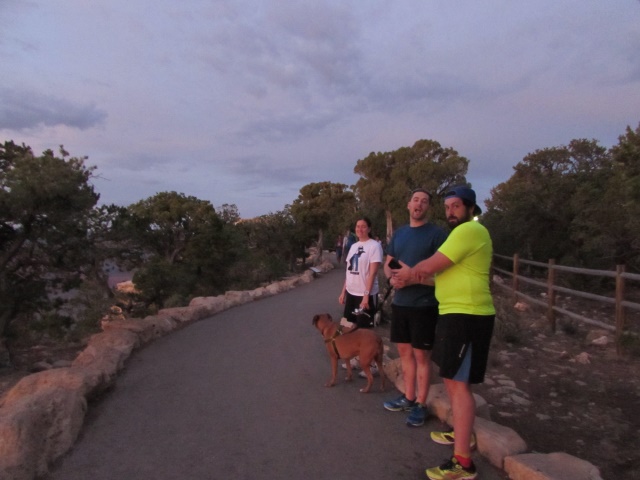 Just watching the view

The Yellow Wesley Car has the best view of the canyon.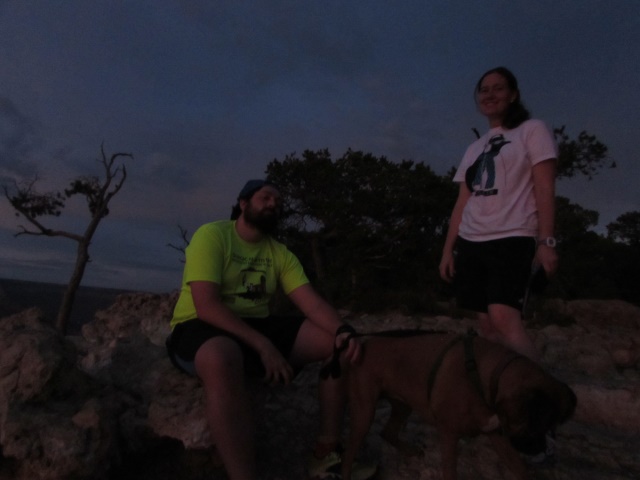 Darkness.

Someone has big muscles.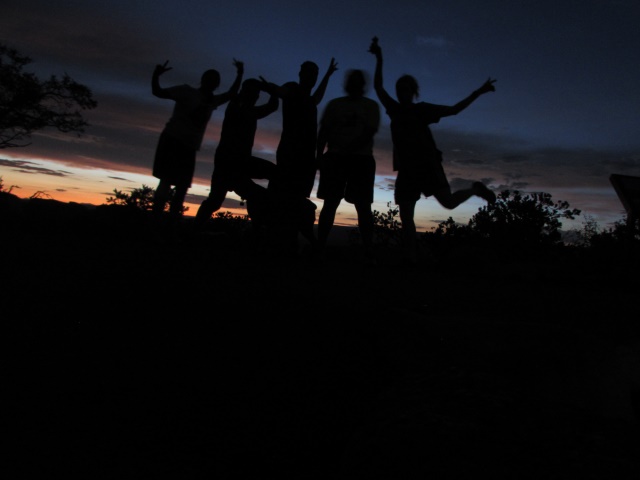 A silhouette of 5 weirdos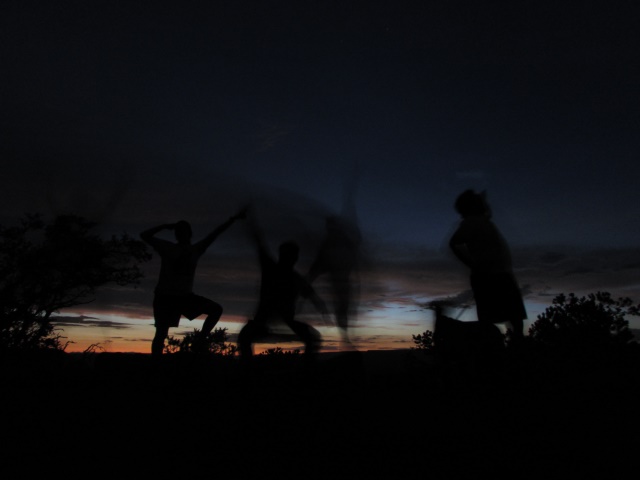 There are 5 silhouettes here but two are really blurry.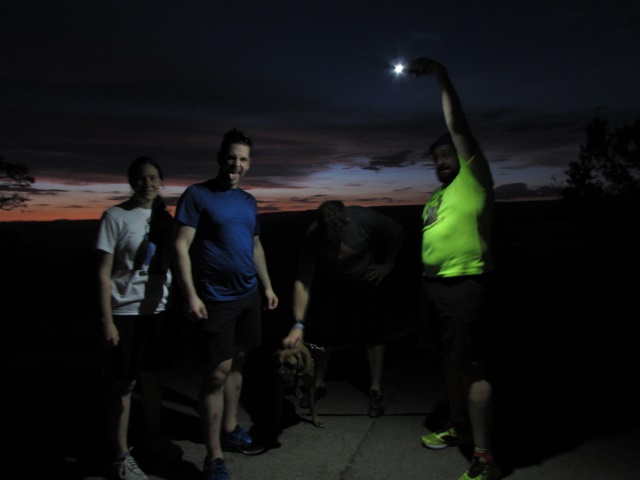 Another cool shot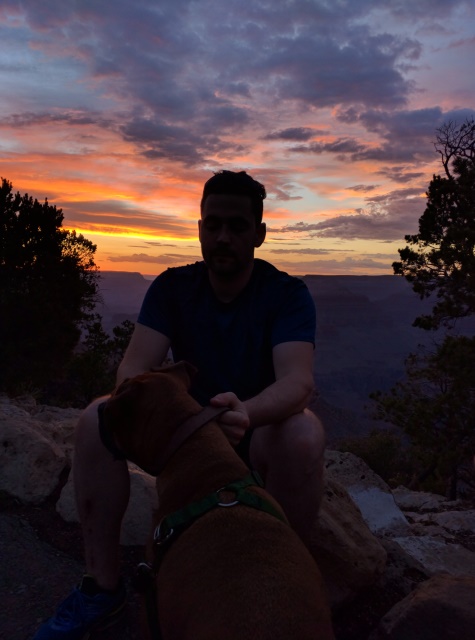 This is the benefit of traveling with your personal Physical Therapist.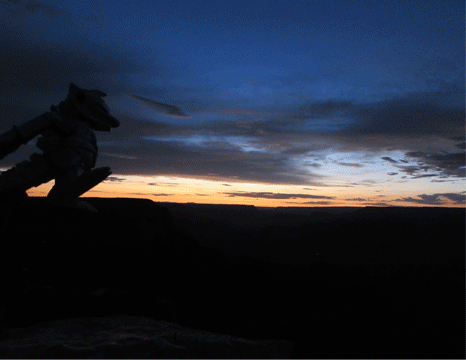 Kingman to Santa Clara:580 mi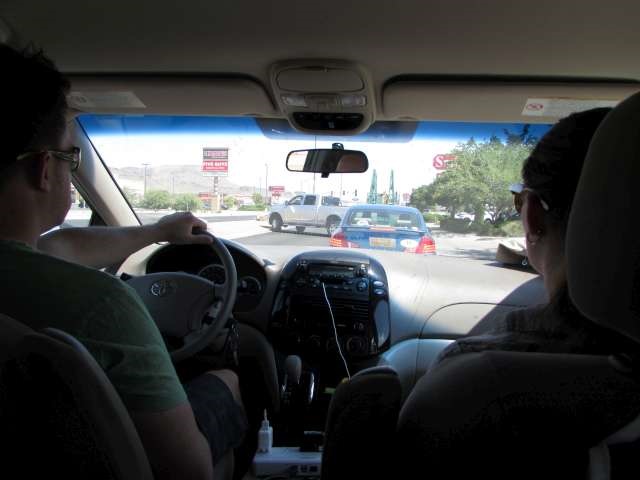 On the raod again!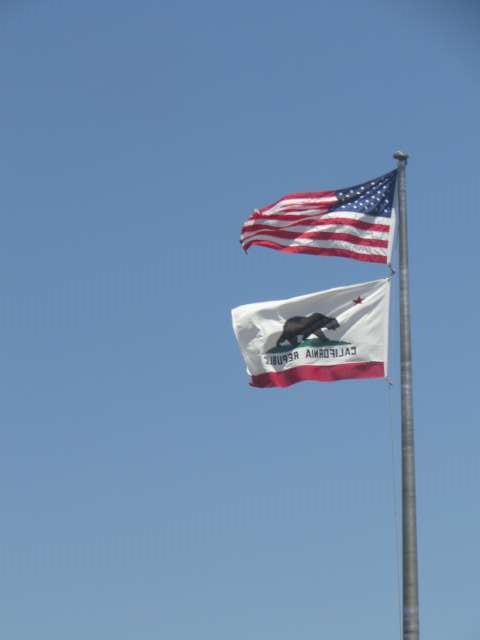 Made it to CA!

One last photo of the hats and shirts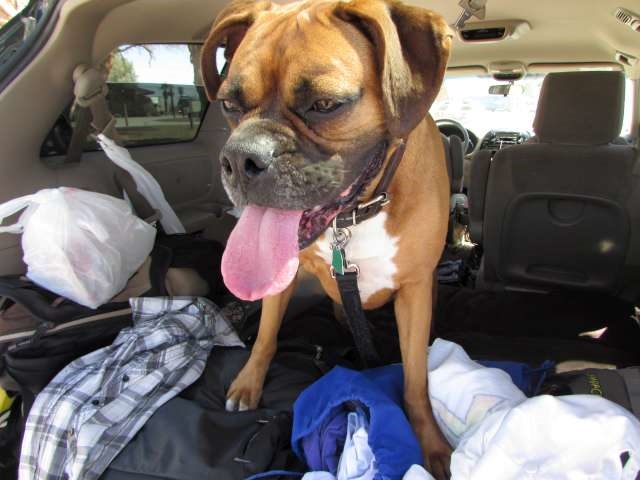 This rest stop is HOT and Lorelei is ready for some

Erika loves sugar and she loves blue koolaid.

We made it to San Jose, Santa Clara, and Santa Cruz. The adventure has wound down. It was a fun time!!
Bull Run Hike – Friday, July 9, 2016
Hiking in VA
The 4 intrepid explorers head off through the slightly more trod path leading south along the Bull Run Trail. They are led by the fearless Kelsey (truly fearless, she didn't scream when she saw the humongous mother watersnake!…I sure would have), followed by the energetic jet lagged Ashley, with Diane and Erika following in the back. The trail is more populous than the northern portion taken yesterday. We traversed almost 6 miles along the river, through the woods, and up and down mountains. We saw several wildlife including a toad, a caterpillar, fish, a chipmunk, and watersnakes (yes plural). Kelsey almost stepped on the giant snake before it slowly slid into the water. Then Ashley saw two baby snakes sunning on rocks mid-river. She proceeded to toss rocks that direction hitting one and splashing the other causing both to prematurely end their sunning. Two guys were lazily floating downriver. I thought it was a great idea . . . until I saw the snakes. We saw two completely soaked runners…no, it wasn't the extreme heat and humidity – they jumped in the river. We stopped for snack along the river and enjoyed sweet juicy watermelon, cookies, pretzels, and nuts. Once we found Yates Ford Road, we decided enough walking for one day and called for a pickup. In order to enable easier pickup (we didn't really know where we were) we decided to walk towards Clifton. Two miles, 5 phone calls, and 23 cars later we found a familiar stop sign and plopped down at the four way stop. 2 minutes later Dave and the rescue van arrive. We enjoy a 15 minute air conditioned trip back to Grandmas where we find her busily preparing for Sunday lunch. Ashley and Kelsey arrive around 5 with the Whole Foods Pizza. Delicious! Stuffed, we break out the iceceam, cookies, and chocolate. Perfect finish to a super long hiking day.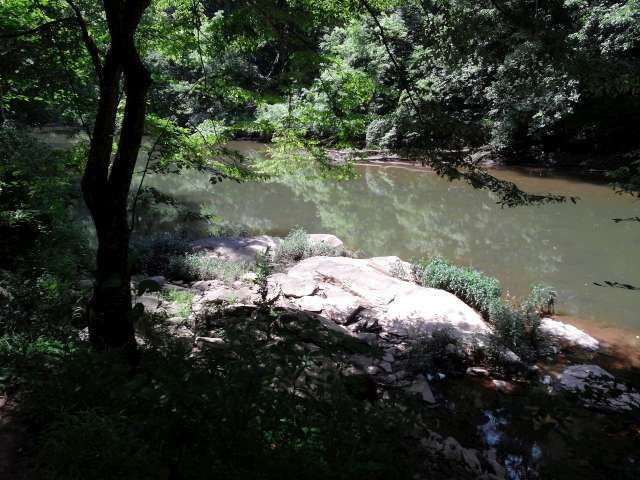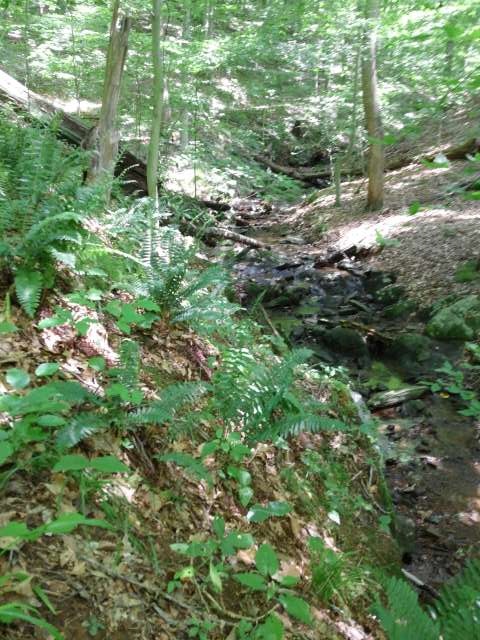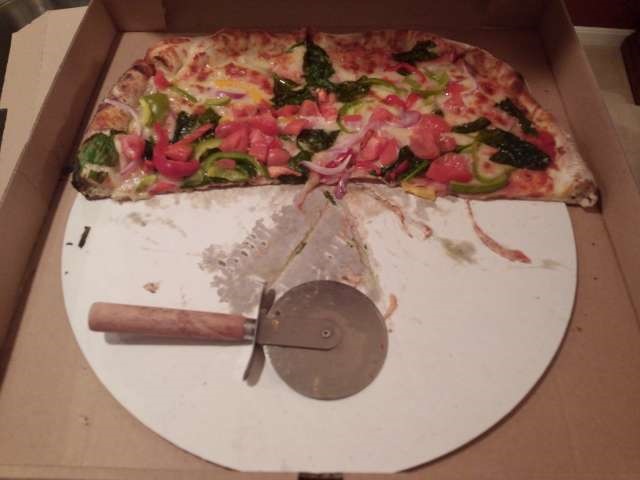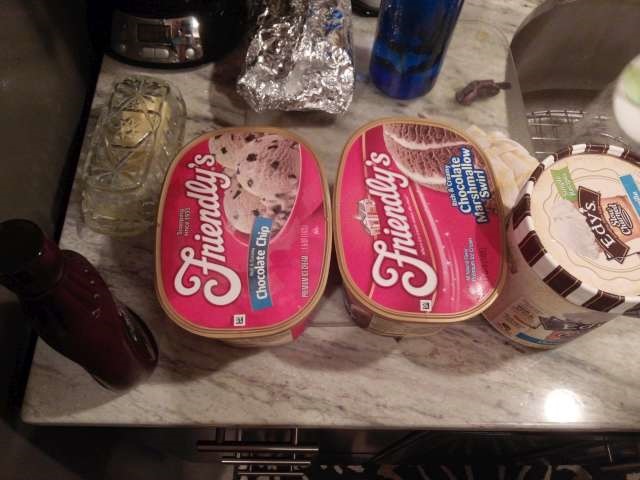 Hiking in VA – Friday, July 8, 2016
Hiking in VA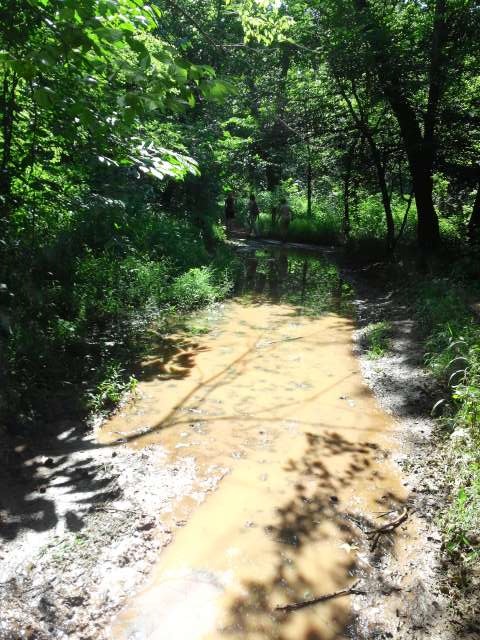 We're getting ready for Switzerland! 5.17 miles! That is after the 4.5 lake walk Sonja and I took Grandma on two days ago!
Air and Space Museum, Chantilly – Tuesday, July 5, 2016
Sightseeing in VA
One sweltering day Grandma and I head to the air conditioned Air and Space Museum in Chantilly, Virginia. We take a 2.5 hour tour with the knowledgeable Buck C. The exhibits include the Enola Gay (the plane used to drop the Atomic bomb on Hiroshima), the Concord, the Space Shuttle, and about a zillion other planes.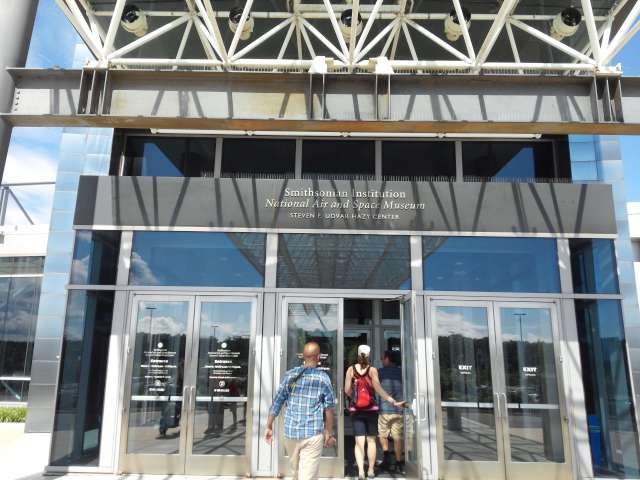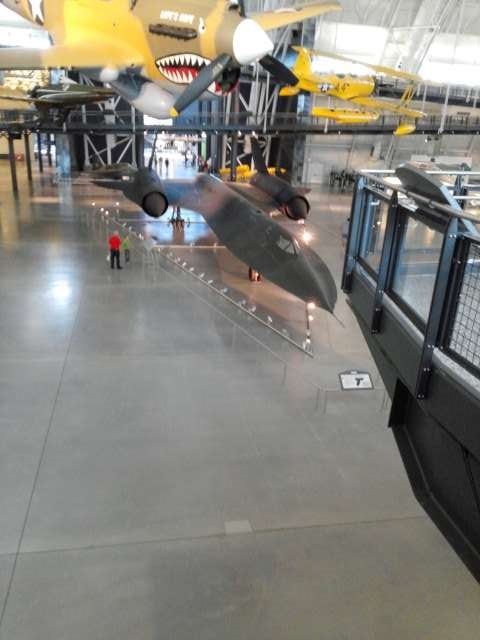 Fireworks in VA – Monday, July 4, 2016
Fireworks in VA

Overcast fireworks! Those were pretty neat actually.