Day…. Y! The Phrase today is Yodel-odel-A-E-huuuuuuuu!!!
Yodeling is a good alternative to cell phones for communicating over medium to long distances and from mountain to mountain. It is cool, efficient, entertaining, and frugal because who knows what kind of cell phone service is available high in the Apps! Yodeling alternates high falsetto and low notes, enunciating vowels on low and high notes. Sounds easy right? Maybe we should learn! Ha! That would be crazy!! Can we be heard from San Jose in Modesto? Virginia? Doubtful…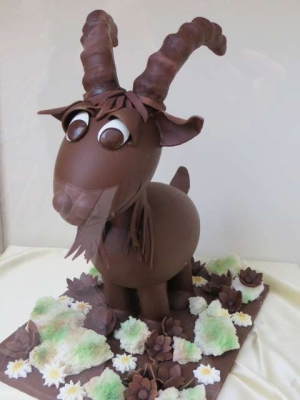 Natural Yodeling uses sounds and not words. Two types of yodeling in Appenzell:
The Ruggusseli, from Innerrhoden, from the head, possibly sadder sounding
The Zäuerli, from Ausserrhoden, slower and more from the chest
Yodeling (non-words) can be performed by one to five voices; one singer begins a slow yodel and others join in to harmonize. This is spontaneous melody.
Some variations have specifically two to three voices and are not as spontaneous.
Apparently there is a lost note used in Natural Yodeling: the alphorn Fa, or the eleventh tone or the natural tone. This is between F and F sharp and is not typically (or ever really) used.
A variation, developed over the years, is the yodel song: two, three, or four-part harmony, and usually accompanied by a "Schwyzerörgeli" (accordion). These songs are a mix of yodels and words; the words in these songs are mainly in German.
Let's see how long it takes us to hear some yodeling. Then, let's see who breaks out into spontaneous yodeling first!
Here's Course One on yodeling: http://www.yodelcourse.org/level1/level1.html
Mom – either you can be our translator in German or you can translate everything into Yodel and charades. Hope you have been practicing your German 🙂 Or maybe Dad can be the Yodel Translator? 🙂
The following is copyrighted so I am in no way claiming this as my own, I am just making it easy for you to read this info so you don't have to click the above link if you don't want to (but do click on the above link if you master this lesson and want to progress in your yodeling). Enjoy and I expect to hear some yodels!! 🙂
LEVEL 1
Directions

Musical Notation

Audio Files

1.) Let's begin by going over some of the consonant and vowel sounds combined to create the language of yodel. Try this with higher notes also moving toward the natural break from your chest voice to your head voice or falsetto range.

Hodl–oh-ooh-dee.

mp3
wav
aiff
For those of you that can read music, I have included the musical notation for each phrase.

Hodl-ay–ee-dee.

mp3
wav
aiff

---

2.) Now let's insert a jump from our chest voice to our head voice, or our falsetto range.

Hodl-oh-ooh-dee.

mp3
wav
aiff
The two high notes, G and F above middle C in the following phrases should be in your falsetto range or head voice.

Hodl–ay-ee-dee.

mp3
wav
aiff

---

 3.) You're doing great so far, put these two phrases together and we have our first yodeler.  
Be sure to breath between each of the yodel phrases. Also change keys with this figure to 
find your yodel range.
 

Hodl-oh-ooh-dee -Hodl-ay-ee-dee-Hodl———-

-ay–ee-dee -yi–ho.

mp3
wav
aiff

If you would like to accompany yourself on an instrument; here are the chords. C/G7/G7/C